We offer training sessions that are tailored specifically to riders who would like the opportunity to compete either their own or our school horses.
Sue, a British Horse Society Intermediate Instructor competes regularly at British Dressage (BD) Competitions. Sue has trained combinations to BD Advanced Medium, but also enjoys teaching beginners, children & adults, bringing them on through the levels and seeing them progress, gaining confidence and enjoyment

Sue & Neil have helped guide me and my horse for almost 10 years, providing expertise, advice and support and occasionally a good talking to when either I or Huggy need it! We are competing regularly at an advanced old age (mine, not the horse) & love the friendliness & professional nature of Tinsleys - Barbara Y

| | |
| --- | --- |
| | Below are some of our clients recent achievements... |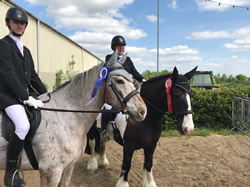 May Dressage Competition at Keysoe
Ethan on Rio and Caroline on Pippin enjoyed a successful day. Both receiving a 1st and 2nd in the two classes they entered.
Great results!
CONGRATULATIONS OLIVER & RED!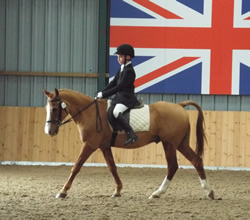 Oliver and Red have qualified after a successful weekend at Houghton Hall EC, for the dressage Trailblazers Championships at Stonleigh in July. Well done.
| | |
| --- | --- |
| Daisy and Ted | 1st P2. 69.31%.  1st P7.  69.77% |
| Holly and Pippin | 4th. P7.   3rd. N24 |
| Jess O and Ted | 1st. N24. 70.22%.  2nd.  P7. 67.90% |
| Caroline & Pippin : | 1st and 2nd both Prelim classes. P4 1st 66.59 & P7 1st 65.5 Into A 1st 65.43 |
| Daisy & Rio | Prelim 4 4th place, Prelim 7 6th place |
| Millie & Rio | Prelim 13 5th place, Prelim 7 and Prelim 13 - 6th |
| Joan & Skippy | Prelim 13 7th place |
| Oliver & Rio | 68.4% prelim 4 2nd place, 64.82% Novice 27 3rd place, Prelim 7 69.25% - 3rd, Prelim 15 66.52% - 2nd, Novice 22 66.37% - 1st. P4 1st 64.09 |
| Caroline M & Troy | Intro A - 2nd, Intro B 64.8% -5th |
| Holly & Austin | Prelim 7 66% -3rd, Prelim 13 68.13% - 2nd |
| Hannah & Skippy | Intro A 64.1% - 1st, Prelim 4 63.2% - 4th |
| Barbara & Austin | Prelim 15 - 3rd |
| Pam & Austin | Prelim P7 and P18 - 2nd and 3rd |
| | All the above results from the College at Keysoe |
| Jess & Huggy: | Win both Novice Dressage Classes at The College EC, Keysoe. |
| Joanne Marriott & Arnie: | P7 1st 66.25 & 4th 64 |
| Daisy McKenna Mannell & Pippin | P7 4th 66.75 |
| Millie Alston & Skippy | Into A 2nd |
| Daisy M M  Rio | 1st 67.75%  2nd 67.24 |
| Hannah Austin | P7 2nd |
| Caroline Pippin | 1st 70% P7 |
| Millie Rio | 1st P7 69.5%  2nd P2 66% |

I would highly recommend Tinsleys Riding School. It is a small but friendly yard that caters for all levels. It has a range of horses and ponies to suit all riders from beginners to those who wish to compete - Sue F